Some new information alleging to pertain to the Korean variant of the Samsung Galaxy S10 5G have surfaced.
First spotted by Dealntech, the Samsung Galaxy S10 5G will be available in two memory tiers: 256GB and 512GB. Also, the dimensions and weight of the phone are slightly different from the global versions specs. The global variant is 162.6 x 77.1 x 7.9 mm and 198g. Interestingly enough, the Korean variant is said to be a teeny bit heavier at 208g and a tad bit shorter and thinner at 162.2 x 77.1 x 7.8 mm. Of course, these are all marginal differences, but they are worth speculating over.
The Korean variant is revealed to have the same 4,500 mAh battery as listed in the global version, so why would the two phones be physically different? Well, we can speculate that the Korean variant would use Samsungs Exynos CPU and a non-Qualcomm made 5G modem presumably Samsungs own modem. Which could mean the rest of the world will get the Qualcomm variant with Qualcomms X50 modem.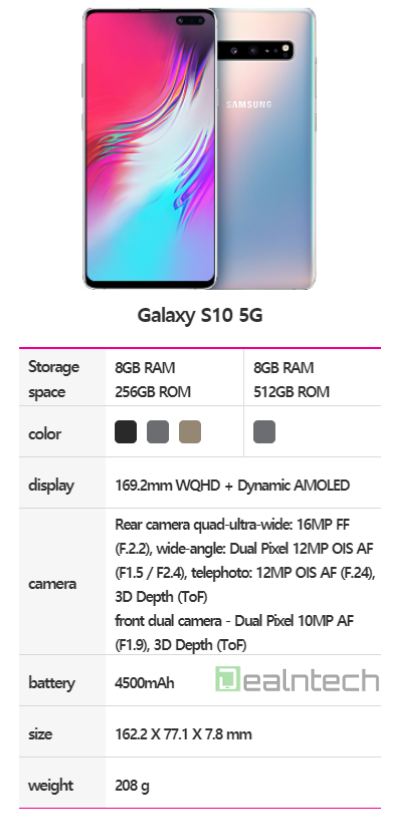 I remember when the Samsung Galaxy Nexus launched for Verizon, the variant physically had different dimensions since the GSM variant was thinner. This is due to a difference in the size of radios and antennas.
Anyway, according to the report, the Korean variant will be available in Majestic Black, Crown Silver, and Royal Gold in the 8GB + 256GB variant while the 8GB + 512GB model will definitely come in Crown Silver, but the sources images arent clear on whether it will also come in Majestic Black or not.
Otherwise, the cameras appear to be the same triple setup as that on the Galaxy S10+ except with the added ToF sensor. Theres an ultra-wide 16MP camera with f/2.2, the standard wide 12MP camera with Dual Pixel AF and the switchable f/1.5 to f/2.4 aperture, a 12MP telephoto camera with f/2.4, and the extra ToF depth sensor with f/1.9.
The Samsung Galaxy S10 5G officially launches in South Korea on April 5 and we cant wait to see the first speed tests from Samsungs home market. Previous reports have shown the Korean Galaxy S10 5G will cost over $1200.